Join us at our next show:
October 21-23, 2022
Bearsville Center , Woodstock, NY
Next Woodstock Invitational Luthiers Showcase
is scheduled for
October 21, 22 & 23, 2022
at the Bearsville Center,
Woodstock, New York, USA
We will begin listing 2022 Exhibitors sometime in March 2022, and Music & Events in April 2022, as they are confirmed. Advance ticketing will not begin until Summer 2022.
For further news, updates and announcements, please Follow us on Facebook www.facebook.com/WoodstockInvitational, and/or sign up for our Mailing List here: www.woodstockinvitational.com/contact.shtml
With thanks to our venue the Bearsville Center, our Premier Sponsor Acoustic Guitar Magazine, and our supporting Sponsors the Association of Stringed Instrument Artisans & Guitarmaker Magazine, Bourgeois Guitars, D'Addario & Co., Fishman, Inc., Guitar Player Magazine, Heritage Insurance, C. F. Martin & Co., Take A Stand, Inc., WAMC Northeast Public Radio, the Woodstock Chamber of Commerce & Arts, and Yamaha Guitar Group!
Special thanks and acknowledgement must go to our incredible Team WILS Production Partners: Sharon Klein, Music Coordinator; Lu Ann Bielawa, Events & Volunteers Coordinator; Mark Heller, Showcase Development & Social Media; Stuart Mono, Publisher and Database Manager.
Bearsville Theater
https://www.bearsvilletheater.com
CUSTOM, HANDMADE GUITAR
CHARITY RAFFLE TO KICK OFF!
Luthier Eric Weigeshoff, Skytop Guitars, New Paltz, NY, www.skytopguitars.com has donated a very special, custom, handmade acoustic guitar for a charity raffle to benefit, primarily, Family of Woodstock, Inc. www.familyofwoodstockinc.org, with Planned Parenthood and the Ulster County (NY) SPCA as additional beneficiaries. Details to be announced.
Thanks to Larry Campbell, Tim Farrell, Sharon Klein, Kinloch Nelson, Happy Traum, and Yasmin Williams, who have generously recorded the following demonstration videos on the instrument.
"Memories of Shadowfax"
"After The Storm"
"Sax 5th Ave." & "Lonely (Amy's Theme)"
"There's A Bright Side, Somewhere"
"The Market Town" & "Scatter the Mud"
---
The Woodstock Invitational Luthiers Showcase is an annual acoustic guitar festival for the community of acoustic stringed-instrument builders, players, collectors and aficionados, presenting a gathering of the finest handmade acoustic guitars and stringed musical instruments from around the world!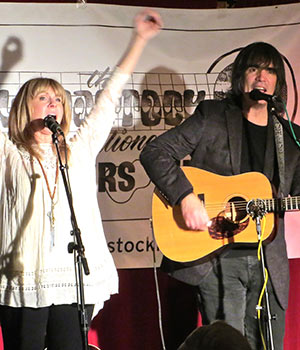 Music & Events
Exhibitors
Clinics
Tickets
A luthier (from the word lute) is a stringed-instrument maker. Fine handmade instruments such as these are not usually available in music stores or other retail environments, and the Luthiers Showcase is a rare opportunity for the public to see, play and experience the instruments, meet with their makers, discuss custom options and one of a kind creations, and buy or order a dream guitar from dozens of master builders, all gathered together in one place. Other vendors include tonewood dealers, parts and tool suppliers, string and accessories manufacturers, publications and instructional materials, lutherie services and schools. The three-day show features continuous live music, mini-concerts, demos and special appearances; plus Special Exhibits and Special Events included in the admission fee. We also present a series of Instructional Clinics and Workshops, taught by some of the world's finest instrumentalists, and our annual String Sampler Concert, by separate admission.
Woodstock, NY is the internationally known art and music community with a deep pool of notable local talent. Only a two-hour drive from New York City, October is peak autumn foliage season in the heart of the Catskill Mountains.