Join us for this year's show:
October 27, 28, & 29, 2017
Bearsville Theater / Utopia Soundstage , Woodstock, NY
Stay tuned for exciting news about upcoming Performers and Exhibitions at this year's Invitational. Coming soon!
We've started the Exhibitors' Listings for the 2017 Showcase. Many more to come!
The Woodstock Invitational Luthiers Showcase is an annual acoustic guitar festival for the community of acoustic stringed-instrument builders, players, collectors and aficionados, presenting a gathering of the finest handmade acoustic guitars and stringed musical instruments from around the world!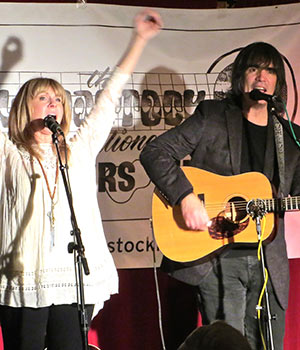 Music & Events
Exhibitors
Clinics
Tickets
A luthier (from the word lute) is a stringed-instrument maker. Fine handmade instruments such as these are not usually available in music stores or other retail environments, and the Luthiers Showcase is a rare opportunity for the public to see, play and experience the instruments, meet with their makers, discuss custom options and one of a kind creations, and buy or order a dream guitar from dozens of master builders, all gathered together in one place. Other vendors include tonewood dealers, parts and tool suppliers, string and accessories manufacturers, publications and instructional materials, lutherie services and schools. The three-day show features continuous live music, mini-concerts, demos and special appearances; plus Special Exhibits and Special Events included in the admission fee. We also present a series of Instructional Clinics and Workshops, taught by some of the world's finest instrumentalists, and our annual String Sampler Concert, by separate admission.
Woodstock, NY is the internationally known art and music community with a deep pool of notable local talent. Only a two-hour drive from New York City, October is peak autumn foliage season in the heart of the Catskill Mountains.